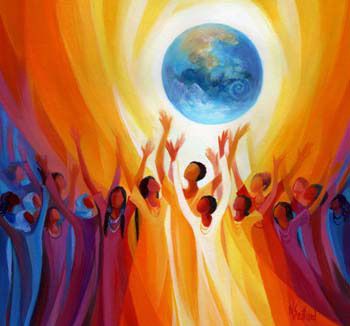 Samana Point will be a part of Emerald Grove where females will come together to develop their authentic power and in turn heal and empower others.  
The Goddess Guild is a collection of people working to activate the Goddess energies on Earth.
Samana is the name of the vital breath corresponding to the third chakra, also known as Manipura.  Located behind the solar plexus, this energy center is the seat of dynamism, willpower, self-confidence and achievement.  It is the source of intuition and is related to awakening, sight,  movement, expansion and transformation.  Samana Point is the embodiment of this energy.  Here, dreams become manifest while we radiate passion and compassion to the rest of the world.
Through self-knowledge we regain our authentic power.  As described by author Gary Zukav, authentic power is alignment of the personality with the soul (with harmony, cooperation, sharing, and reverence for Life.)   To support one another in this endeavor, we are forming a community of Goddesses who are ready to shift from five-sensory perception (fear-based) to multi-sensory perception (love-based).  This means choosing Love over fear and making spiritual growth our first priority.
We have come from all walks of life and have many experiences to share.  We feel in our hearts that now is the time to put aside any differences and come together in Love.  This Love must begin from within, since we are all connected.  By rekindling our Love and appreciation for ourselves, we will then be much better able to share this Love with others.  Samana Point is a "City of Jewels."  Each woman shines her light and brings her gifts to the world.  These jewels are strong and beautiful and are leading the way for other girls and women.  This is a new day and we are creating a new way of life that better suits our evolving consciousness.  It is the time of the Peaceful Warriors.
The Goddess Guild of Eugene, Oregon
The Goddess Guild is a branch of Samana Point which is dedicated to activating the Goddess energies on planet Earth.   Starting with a smaller group of individuals who have already done a substantial amount of self-realization work, we will use rituals, meditation and visualization to start calling in the high vibrations of Love.  Once the foundations have been laid, we will begin to spread our message and invite others to learn more about this work.  We will host workshops and events to teach about the Goddess activation movement, and help others learn to embrace the Goddess within.
If you are interested in the Goddess Guild of Eugene, OR please check out our Facebook Group.
Samana Point is an evolving place.  Currently it exists purely in the etheric realm, as a vision in a few people's minds.  What does this vision look like?
Imagine a Place… (it is still in the planning stages- our land is on it's way)
Dwellings
Our village will be just on the outskirts of Eugene, Oregon.  We may find ourselves on a sanctuary of forested land with a clearing that is home to a sunny meadow.  The earth here is rich and ideal for planting our organic garden.  Our houses will be spread out over the land giving everyone ample privacy.
Goddesses will reside in various types of dwellings.  One could live in a yurt, a tipi, a cob house, a tree house, an earth ship, a hobbit hole, an RV or trailer, or a tiny house of some kind.   Each resident would receive a space to make their home.  To begin, the ideal number of residents would probably be less than twenty.
Shared Vegetable Garden
Everyone who is able will spend some time in the garden connecting with the plant kingdom.  We will grow organic fruits and vegetables and through our collective efforts, we can even sell the extras at the farmers market or donate them to the hungry.  We will enjoy cooking our fresh foods from the garden and gather often to share meals and friendship.
Crafty Vixen Playshop
The ladies will each contribute what they have to create an inspiring crafting environment.  Sewing machines, stained glass making equipment, knitting and crocheting tools, glue and glitter… we will make it all possible and teach each other our crafts.  Samana Point will be home to some of the craftiest vixens around!
Fitness Area
Residents in Samana Point will also share their exercise equipment and enjoy doing yoga, tai chi, martial arts, dance, hooping, and much more together.  They will motivate each other to live an active healthy lifestyle and build confidence through supporting friends in this way.
Spirituality
We will be a community of diverse interests and customs.  We will embrace all spiritual wisdom regardless of denomination.  We will share our knowledge with one another and enjoy learning with an open mind.  We will engage in ceremony and ritual to create a feeling of community togetherness.  We will hold workshops to share our knowledge with residents and others.  We will inspire each other and the world by simply shining our light.
Menfolk
Samana Point is NOT a feminist, man-hating, lesbian cult.  However, it is comprised of women who are finding that they need to turn their focus inward at this time.  We are ascending along with all life on our planet, and this is a time when relationship with Self must come before anything else.  We have loved in the old way with our egos calling the shots and found that it simply doesn't work.  We are putting a stop to unhealthy cycles and patterns.  We build new self-confidence which will enable us to succeed when we shift to having co-creative relationships.
Men are allowed inside Samana Point as guests, but may not take up residence there (Emerald Grove will include a portion of the village to house both men and women).  We must honor our resolution that at this time we choose to live among women who share our dedication to opening our hearts and discovering our passions.  We are at the leading edge of conscious evolution and supporting our sisters is the only way the planet can shift into a higher, finer, more peaceful and loving vibration.
Emerald Grove will also house co-ed residents who are dedicating their lives to achieving healthy and sustainable lifestyles.  If the two communities end up on the same property, they will share one large garden and many aspects of daily life.
Animals
Animals can be very good companions, and provide much Love and lightheartedness.  Samana Point will welcome animal family members.  If an animal becomes a problem, the community will come together to find a solution.
Please spread the word by clicking "Like" on our Facebook Page!