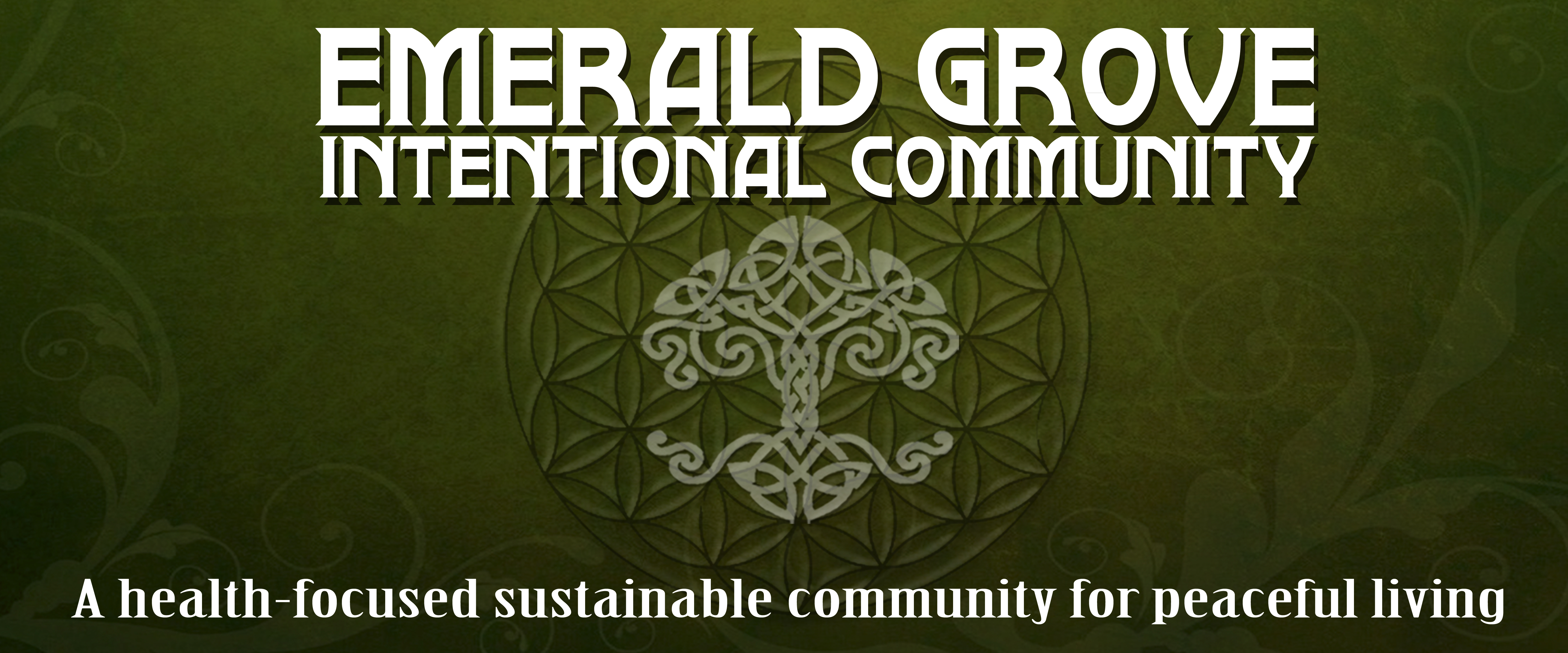 Emerald Grove is an aspiring intentional community and sustainable ecological-village currently forming in the Eugene, Oregon area.  We are in the process of gathering the tribe, acquiring our non-profit status and looking for land.  We are fine tuning our vision documents as our collective dream develops.
Help Us Grow!
Mission
Our mission is to provide opportunities for individuals to thrive in a sustainable community setting through a shared focus on optimal health, creativity, Earth stewardship, increased Self-awareness and peaceful living.
Building Community
The main focus of Emerald Grove is fostering optimum health and well-being for individuals and the planet. Â Our village will consist of two distinct residential areas.
Emerald Grove will be a co-ed portion dedicated to modeling and teaching a simple, natural, balanced lifestyle and providing healing to the public.
Samana Point will be just for women light workers engaged in discovering their Authentic Power and activating the Goddess energies on Earth.
Both will share the Emerald Grove Health and Wellness Center facility. Â It will essentially be a healing center where the healers live on-site.
A Multi-faceted, Inclusive Community
People with other gifts than healing may also become residents, as this is a multi-faceted undertaking and there will be many jobs to do.  Our community will include those skilled in permaculture, organic farming, aquaponics, natural building, woodworking, sustainable energy infrastructures, animal husbandry, art, music, dance, cooking, and more.
Please explore our website and remember to "Like" our Facebook pages to help us spread the word.
Participate
We are currently accepting volunteer applications with many different positions available. Â Contact us if you would like to know more about participating. Â Our village embraces individuality and appreciates every level of involvement by community members. Â 
What unique skills would you like to contribute to the cause of creating a peaceful, supportive community and village where Love wins?
__________________________________________________________
Current Events
Our fundraising video has nearly reached completion!  Thanks to Cat Savattere from University of Oregon who volunteered her time and skills to help us out with this project.
We are working to develop a relationship with a farm in Mapleton which has a large greenhouse which is not being used. Â We are in need of experienced permaculture, aquaponics and organic farming enthusiasts to help us design a plan to present to the owners. Â Once we have the space to use, we will invite many volunteers to carpool there to set up and tend the gardens on an on-going basis. Â (Maybe we can find land between Eugene and Mapleton to settle on!) Â Produce from the farm will be shared among full members of Emerald Grove and extra bounty will be sold at farmers markets to offset costs of developing our infrastructure. Â We see this farm as eventually becoming a main source of income for our community.
Please call 310-704-4870 for more info.
Donations Welcome!
We are grateful for your help in funding our healing activities, future eco-village development and attainment of non-profit status by clicking the link below. Â If you'd like more information first, please Margot directly.